This tutorial will show you how to create a contemporary download button in Inkscape — a popular web design asset.
1. Set up your document
Open up a new document in Inkscape and then edit your document properties so your page is 150 pixels wide by 40 pixels tall. Feel free to choose different dimensions if this doesn't fit your needs or you can use the default settings and just export the drawing (as opposed to the page) when you're finished.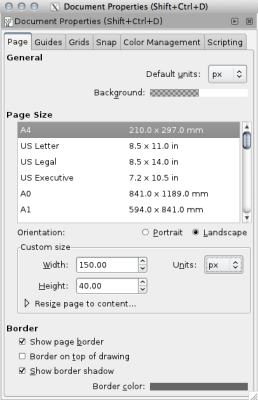 2. Draw a rectangle
Using the rectangle tool, draw a simple rectangle that extends to the edges of your document. You may find it helpful to turn on the grid by going to View » Grid or by pressing the # key. If you're using version .47 you can also choose the snap to page border option in the snap control bar.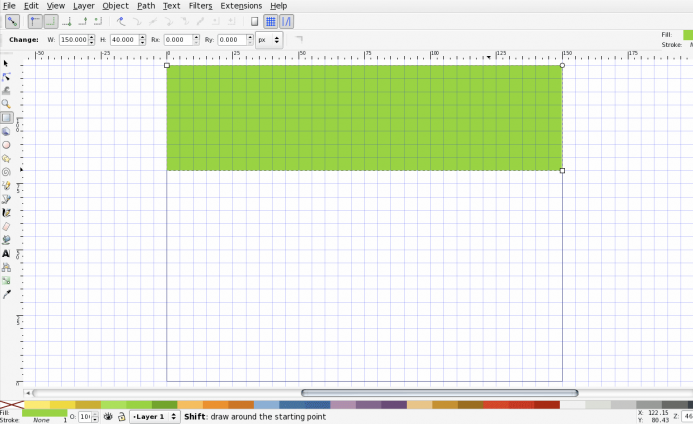 3. Create a rounded rectangle
Give the rectangle a 20 pixel radius. You can do this by either using the path tool and dragging the corner handle down or manually set the radius in the tool control box.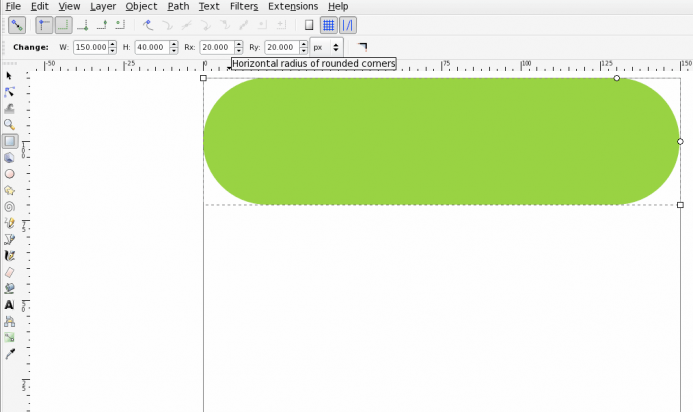 4. Create a glossy effect (optional)
This process can be done in a several different ways, so feel free to use a different method if you know of one. You may also want to skip this step completely if you don't want a glossy button.
First select your button and duplicate it by pressing CTRL + D. Next you'll want to transform the object into a path by pressing CTRL + SHIFT + C. Now you should see node handles on the object when you hover over it with the path tool. You'll also notice that while this new object is selected it will say "path" on the bottom toolbar.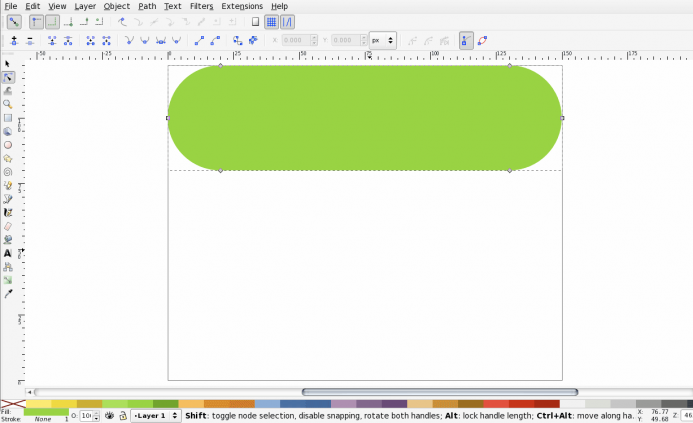 Using the path tool select the bottom two nodes (you can select multiple nodes by holding down the SHIFT key) and press DELETE.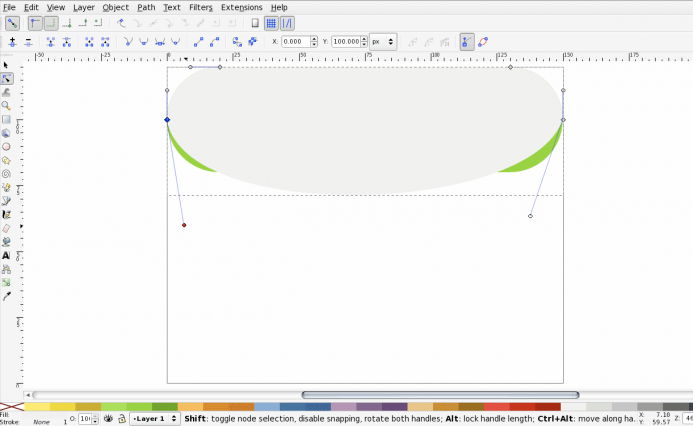 This will give you a funny looking shape which we don't want. To fix this you'll want to hide and retract the bottom node handles by holding down the control key and clicking on them (they're mall circles).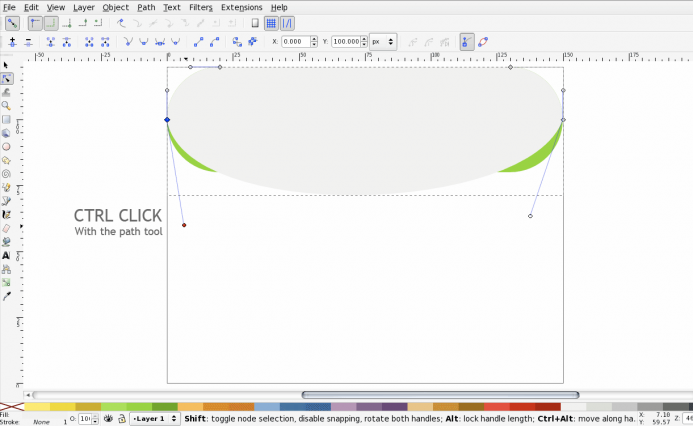 Now you'll want to change the colors for the button and the gloss. For the main background I'm using a RGBA value of EEEEECFF and for the gloss I'm using FFFFFF65.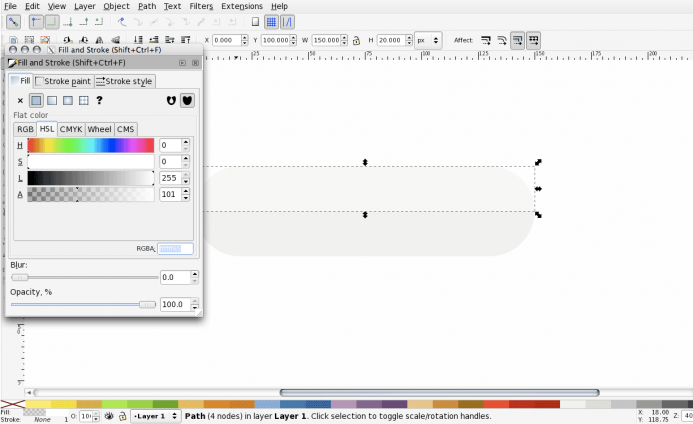 Now we're going to give the gloss some depth by shrinking it by 2 pixels. Select it and adjust its dimensions to 148px wide by 118 high. When you've done this, you'll want to adjust its location so its centered and leaves a 1 pixel gap on top.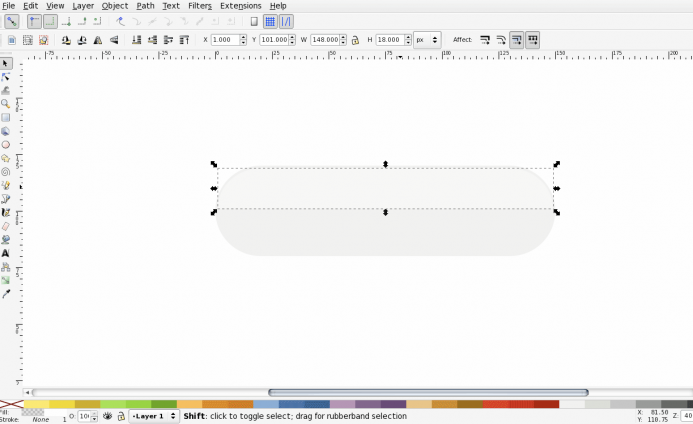 5. Create a circle and add a download arrow
Using the ellipse tool draw a circle (hold down the control key to constrain the proportions). Move your circle to the right side of the button and adjust it's position and size until you like how it looks. Lower the circle below the gloss by selecting the object and using the tools control bar or by pressing CTRL + PGDOWN.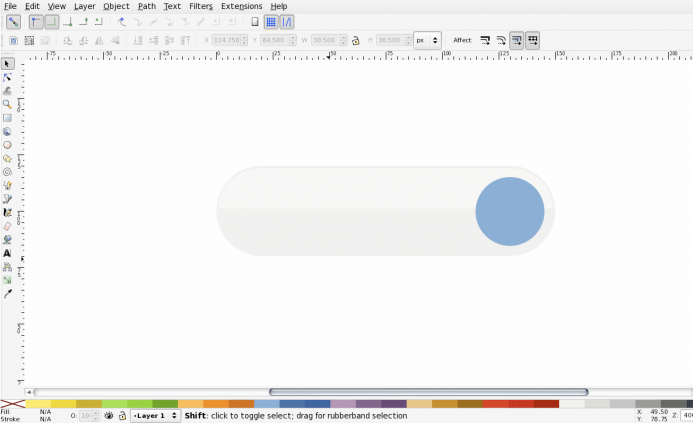 Draw an arrow with the bezier (pen) tool or you can draw a straight line with the bezier tool and add an arrow to it as an end point (you can access this option from the stroke style tab under the fill and stroke dialog CTRL + SHIFT + F). Center your arrow.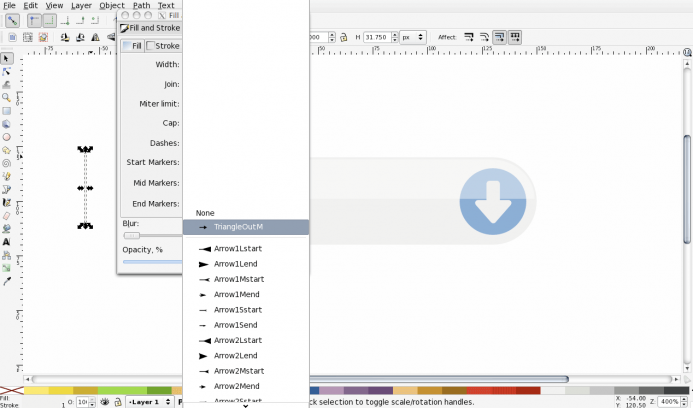 6. Add your text
You can add whatever text you'd like here. I chose "Version .47 – Ubuntu" for the final version.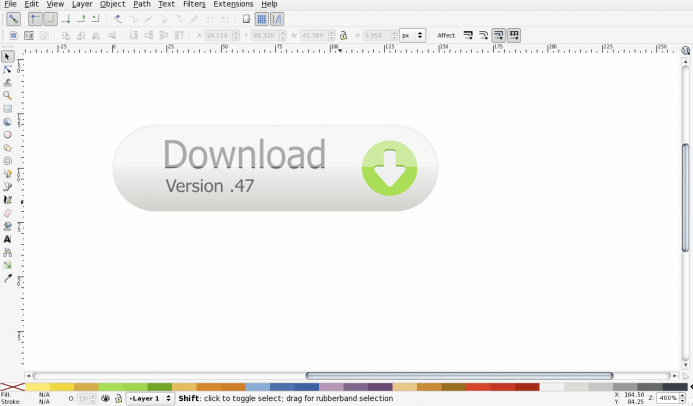 7. Add a gradient to your button
I actually prefer a slight gradient to a glossy look, but if the design calls for a glossy look I almost always add a gradient to give it more of a three-dimensional appearance. To add the gradient select the button and bring up the fill and stroke dialog. Click on the edit link and then adjust each gradient stop accordingly. Next you'll want to adjust the gradient handles so they are vertical like the screen shot below.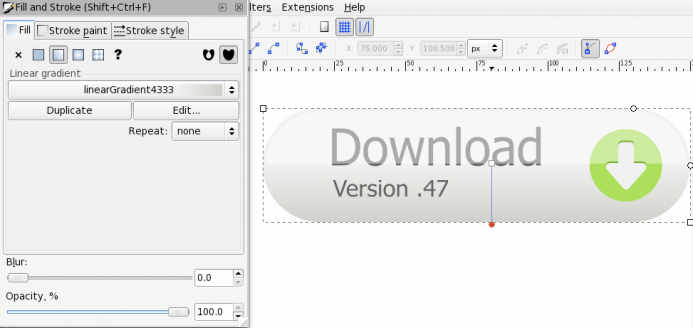 8. Add a subtle drop shadow
Duplicate your button (CTRL + D) and move the duplicate object to the bottom of the document (CTRL + PGDOWN). Make this object black and give it a blur setting of 2.0 (this option is under the fill and stroke dialog). Play around with the blur setting and adjust the position of the shadow for better results.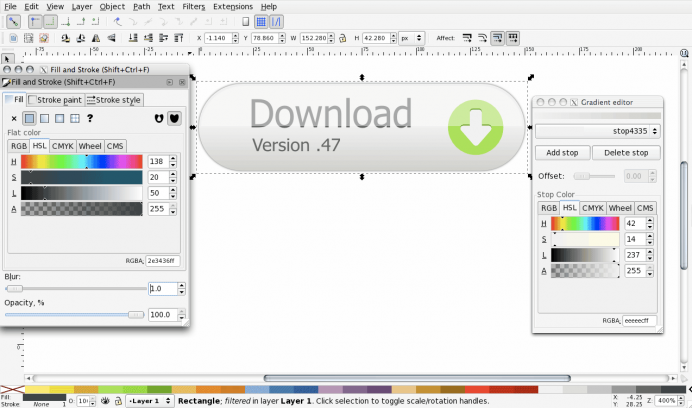 9. Export for the web.
Export your button by pressing CTRL + SHIFT + E. Then select page, choose where you want to save your file, and then click export.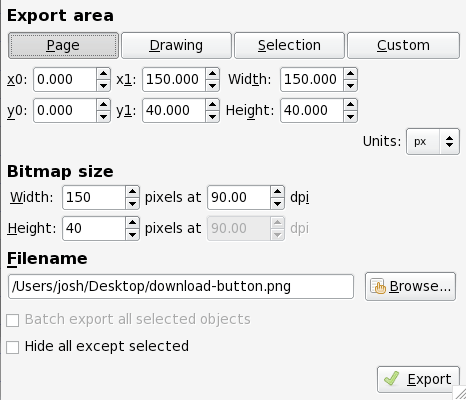 That's it. You'll probably find the best results by making small adjustments throughout the process to suit your needs. If you used small text like I did for the version number and it appears blurry, then you may want to add the text with a bitmap editor such as Photoshop or Gimp. Small text sometimes looks poor in Inkscape because it doesn't support font hinting. As a work around, just add you text with a bitmap editor.
Source File. To download, right-click and select save link as.